What is a pilot's work schedule like?
Airline pilots are typically away from home quite a bit. We often have to work holidays and weekends. This type of lifestyle can be fun and exciting, but it can be hard on family life.
What are the duties of an Airline Pilot?
A pilot's duties start at least one hour before take off when we meet to receive preflight information and briefing. We then go over flight plans based on weather, temperature, wind-speed, weight at take off, etc. We check fuel requirements, instruments, electronic, normal and emergency equipment.
During flight we make announcements to keep passengers updated on flight progress, weather, and other details. In cruise the autopilot is normally engaged, but for take off and landing we like to handle the plane ourselves. We do this to stay proficient in the thing we love to do most, fly. We also make routine checks on all the operating systems. We follow instructions from air traffic control, who maintains radio contact with us from start of taxi to gate arrival.
All procedures are routinely accomplished by reference to checklists. We accomplish each item one step at a time in a very organized manner. Each of us is trained to do our duties in a standardized format. We can fly with a pilot we have never even met before and we will be able to work together knowing what to expect from each other. It is as if we had flown with each other for years.
When the flight is completed and the parking checklist is finished we make out an arrival report. We fill out the aircraft log book noting any mechanical discrepancies. If discrepancies exist we notify maintenance. And if everybody hasn't left yet we say, "Ba-bye" to the passengers. ("Ba-bye" is technical aviation lingo for "Thank you for flying with us. We hope you enjoyed your flight. Come back soon. Have a nice day!")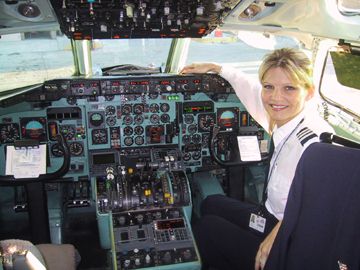 What about training?
Right from the beginning pilot training is long, demanding and costly. Airline pilot applicants normally don't even bother to apply to a major airline until they have accumulated a number of pilot certificates, ratings, years of experience, and thousands of hours in complex aircraft.
Those who make it that far are put through further training courses upon joining the airline. Such training in fact never ceases throughout their career. They will have to retrain and attend refresher courses for each new aircraft type they fly and have to show regularly that they are competent and fit to fly. This includes oral, written, simulator, and real aircraft flight checks by both company Check Airmen and FAA Inspectors. It's a life of train and retrain, check and recheck, test and retest.
How about medical requirements?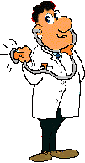 Tests, tests and more tests! Every six months it's off to see the FAA medical examiner. We have to undergo vision, hearing, reflex, EKG, urine, and drug tests, and some other tests I'd rather not talk about.

Also, we can't take any medication or prescriptions without prior approval.
As you can see, everything is being done to ensure you have the most qualified people in the cockpit.
Flight attendants are typically poised, tactful, and resourceful people who can interact well with strangers and remain calm under duress. Flight attendants help make flights more comfortable and enjoyable, but their main responsibility is for your safety.
Flight attendants are well trained to handle a wide variety of emergencies. Just like cockpit crewmembers, they attend training mandated by the FAA. Flight attendant training consists of things like how to evacuate an airplane, handling disruptive passengers, water survival tactics, terrorist situations, and treating medical emergencies such as heart attacks. They are skillfully trained to use defibrillators and most importantly how to administer C.P.R. They also must know how to locate and precisely operate onboard oxygen, megaphones, fire extinguishers and medical kits.
"Captain Stacey, One of my biggest concerns with being on an airplane was with my anxiety attacks and the possibility of having a health emergency and not being able to get help. Now that I know that flight attendants know how to use defibulators and know CPR, I feel a lot better. THANKS!"
Observe your flight attendants on your next trip and you will see poised professionals who know first hand that flying is routine. If you experience turbulence, you will be reassured at how their facial expressions remain calm.
Next time you ask for some more peanuts from a friendly flight attendant remember that if the going gets tough they'll be there to help save your behind! Please treat them with respect.
Lesson 2 Summary
The FAA ensures your safe and secure flying experience by monitoring, inspecting, drug testing, and certifying the people who work in safety related areas of aviation. Aviation is "black and white". There are no "maybes". Either it is 100% safe, or we don't do it. You may have heard the saying, "Safety is no accident".
There is also a natural tendency for each worker to not only take pride in his or her own work, but keep an eye on others. Because we understand the importance of our work on the safety of others, we will not tolerate anything less than perfection!
From FAA Personnel to Air Traffic Controllers to Aircraft Mechanics to the Flight Crew, there is no industry in the world with better trained, tested, skilled, and motivated professionals than the people in the airline industry.

Please email me with questions, comments or suggestions about the topics covered in Lesson 2.

(Protecting your privacy is important to me)